SHRI BHUPENDRA PATEL
Hon'ble Chief Minister, Government of Gujarat
SHRI RAJ KUMAR, IAS
Chief Secretary, Government of Gujarat
SHRI VIJAY NEHRA, IAS
Secretary - DST, Government of Gujarat
About the Quiz
The Gujarat STEM-Quiz is a unique activity that combines education, fun and competition. It has been designed keeping in mind to inculcate informal science learning. While it is competitive in nature, it also adds significant educational value to each student's STEM education.
The quiz is more inclusive, as students from all across state can participate irrespective of location, board, medium of education or gender
The vision of Gujarat STEM-Quiz is to provide an intensified impetus towards STEM enthusiasm in students. It will improve and promote participation, knowledge and awareness on STEM in students of the State.
The format of the questions will be such that it will encourage an understanding of STEM in the students. It aims to make the students more vigilant for the STEM based understanding to make them a better citizen enlightened with a vision of Clean, Green and Sustainable Development activities.
The Gujarat STEM Quiz is envisioned to be a yearly activity which will enroll and motivate students from class 9 to 12 to participate, learn and enjoy the fun and excitement.
Subject/ Syllabus
The question will be based on current trends of STEM (Science, Technology, Engineering and Mathematics). Mostly the questions will of the level of secondary and higher secondary school standard.
Uniqueness of the Quiz
The Quiz will be carried out at Taluka level, District Level and State Level
First of its kind in the Country with a large participation.
Chance to win attractive Prizes and incentives.
Mentoring/ Visit to Premier Scientific Institutes like ISRO, DRDO and BARC
Quiz will be live on the Doordarshan and other mainstream channels.
Questions will be thought provoking in place of rote learning.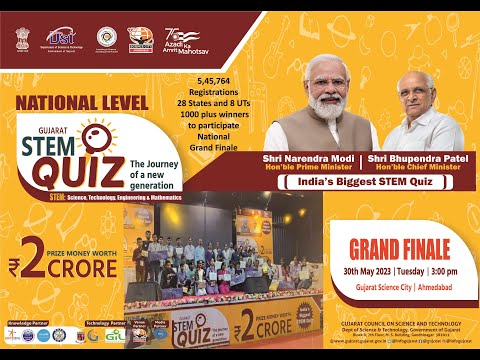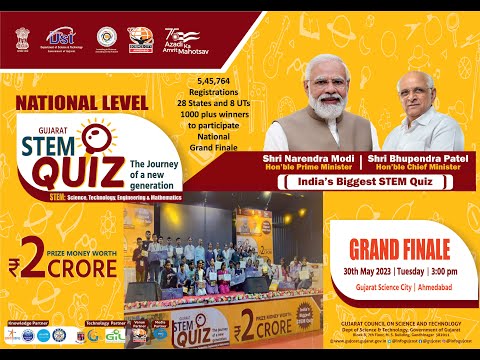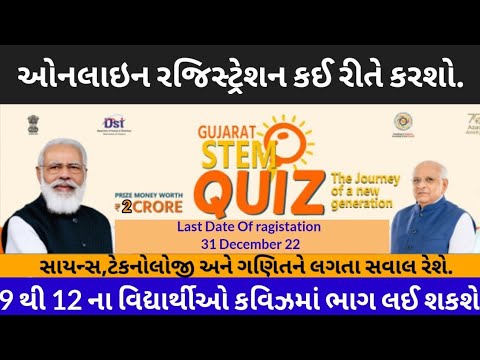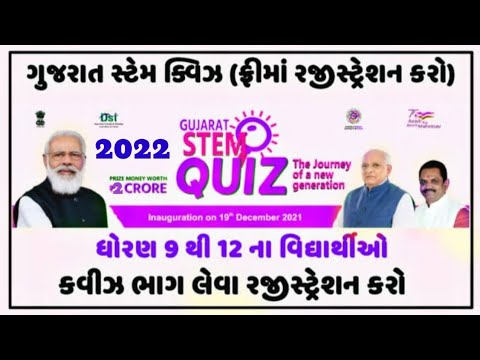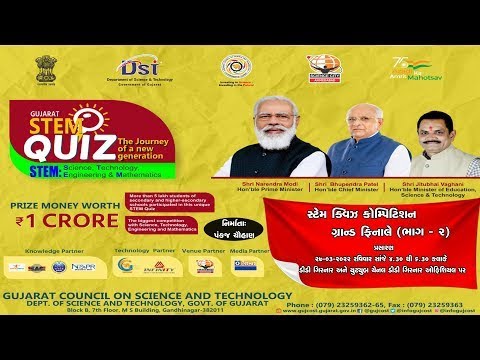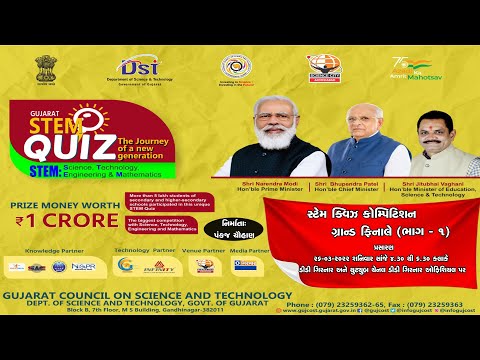 Objectives of the Gujarat STEM Quiz